Bohemia
Vintage Chevron Handira Moroccan Blanket
One-of-a-kind handwoven Vintage Handira with Chevron silver embellishments, fluffy fringe and tassels. Hand-woven of natural sheep's wool and cotton. The traditional Moroccan handira can take several weeks to create, and is traditionally worn by the bride as a cape on her wedding day and then used as a bedcover after the ceremony. These beautiful blankets with rich tradition look fabulous as a bedcover, an oversized throw over the sofa, or used as a rug or wall hanging. Measures 110cm by 240cm. Please note that vintage textiles may have slight markings. Dry clean.
Inspired Design: Bohemia was founded by Jenny Lockton in 2006 to design and create contemporary handcrafted fashion and home accessories working in ethical partnership with artisans in Morocco, India Turkey and Bali. Bohemia's relationships with artisan producers help support meaningful employment and ensure the survival of traditional crafts.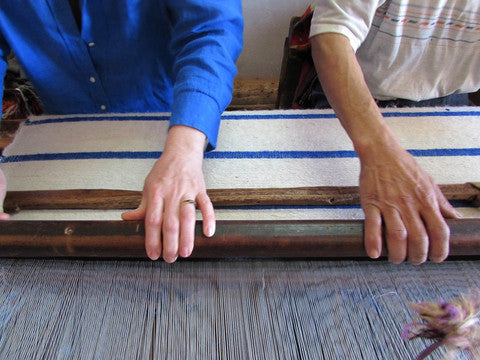 Bohemia
The Bohemia ethos is ethical, fair trade, hand made. Working in close partnership with artisans worldwide, Bohemia's collaborative process centers on uniting contemporary design with heritage craftsmanship. 
Bohemia was founded in 2006 by Jenny Lockton, an anthropologist and businesswoman with a lifelong fascination with arts, crafts and textiles. In partnership with artisan producers in Morocco, India, Turkey and Bali, Bohemia creates meaningful employment for artisans and works to ensure the survival of heritage craft traditions.