Article 22
Bead Choker
Article 22's chic Bead Choker, made of sterling silver and Peacebomb metal. The flexible, sterling silver wire choker is finished with stone-polished Peacebomb orbs. The purchase of this choker clears 8 square meters of bomb littered land. Choker measures 5" in diameter; beads 1/4" diameter.
Inspired Design: Article 22's Peacebomb collection is made by artisans from Vietnam War era bombs, plane parts and other aluminum scrap. Hand poured and cast in wood and ash molds, each piece of the Article 22 collection supports artisan livelihoods, village development and demining in Laos.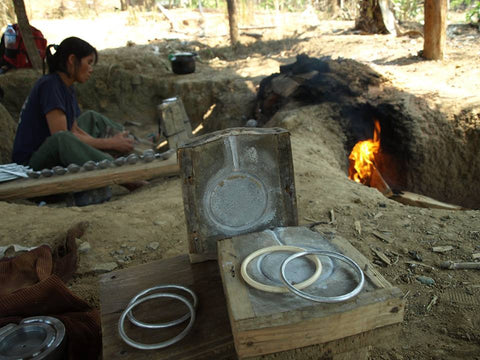 Article 22
Article 22 works with artisans in Laos to transform destruction wrought by war into beautiful works of wearable art. Each piece in Article 22's collection is created from the remnants of an overlooked legacy of the Vietnam War era that left Laos the most heavily bombed country in history. Today, over 80 million unexploded bombs remain in Laos after the daily bombings that occurred in that nation between 1964 and 1973. 
Handcrafted by local artisans who cast in wood and ash molds, the transformation of land mines and aluminum scrap metal into jewelry clears bomb-littered land in Laos, making it safe for Laotians to live, work and enjoy their land.