Odette New York
Verrou Necklace
Odette New York's Verrou necklace features recycled hand cast brass nut on a minimal sterling silver chain. Wear layered for a chic, polished finish to your LBD or your t-shirt and jeans. 1/4" pendant set on 16" sterling silver chain. 
Inspired Design: Organic shapes and primitive forms are the inspiration for Brooklyn-based designer Jennifer Sarkilahti's Odette New York collection. With an emphasis on artistry and craftsmanship, Jennifer begins her design process with a pencil sketch that is carefully translated into wax and then hand-cast in recycled metals. Tapered lines, organic forms and architectural details characterize the collection.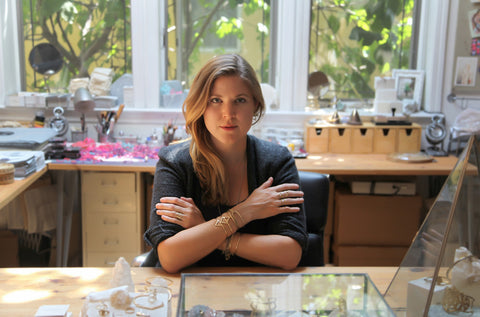 Odette New York
Odette New York is the eco-conscious jewelry line of Brooklyn-based designer Jennifer Sarkilahti. Influenced by her background as a fine artist, Sarkilahti's designs are inspired by organic and geometric shapes, ancient symbols and primitive forms.  
With a focus on tactile surfaces, each design begins from a pencil sketch that is carefully carved by hand into wax before being cast into recycled brass, white brass and sterling silver.