Bohemia
Gold Sequin Basket
This Gold Sequin Basket from Bohemia Design makes a dramatic statement. Perfect for storing small items in the bathroom, kitchen or the kids' room or as small carryall. It also makes a stunning small plant holder and is a beautiful way to present a gift.  Handwoven in Morocco from palm leaf adorned with gold sequins and finished with a natural sisal cord handle. 10 1/2" x 6 3/4" x 4"
Inspired Design: Bohemia was founded by Jenny Lockton in 2006 to design and create contemporary handcrafted fashion and home accessories working in ethical partnership with artisans in Morocco, India Turkey and Bali. Bohemia's relationships with artisan producers help support meaningful employment and ensure the survival of traditional crafts.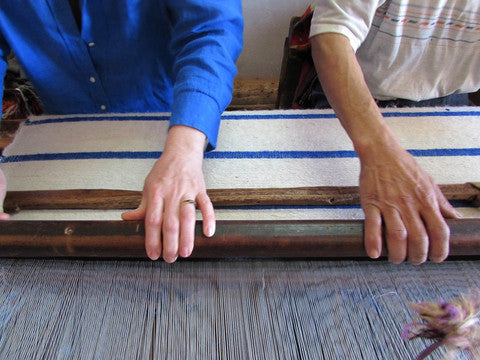 Bohemia
The Bohemia ethos is ethical, fair trade, hand made. Working in close partnership with artisans worldwide, Bohemia's collaborative process centers on uniting contemporary design with heritage craftsmanship. 
Bohemia was founded in 2006 by Jenny Lockton, an anthropologist and businesswoman with a lifelong fascination with arts, crafts and textiles. In partnership with artisan producers in Morocco, India, Turkey and Bali, Bohemia creates meaningful employment for artisans and works to ensure the survival of heritage craft traditions.