Bohemia
Yellow Ibiza Turkish Towel
The handwoven Ibiza Turkish Hammam Towels from Bohemia come in a myriad of rainbow colors, this one in bright, lemon yellow. The traditional pestemal is woven by hand in the time-honoued way on wooden looms using the finest natural cotton fibers. The resulting fabrics are delightful to the touch and stunning in their quiet simplicity. With a multiplicity of uses from practical beach wraps, sarongs, picnic blankets, scarves and throws to quick drying towels, the hammam towel offers an inexpensive little luxury for everyday use. Hand or machine wash in cold; air dry or dry on low heat. 100% Turkish cotton. 180 x 90 cm. 
Inspired Design: Bohemia was founded by Jenny Lockton in 2006 to design and create contemporary handcrafted fashion and home accessories working in ethical partnership with artisans in Morocco, India Turkey and Bali. Bohemia's relationships with artisan producers help support meaningful employment and ensure the survival of traditional crafts.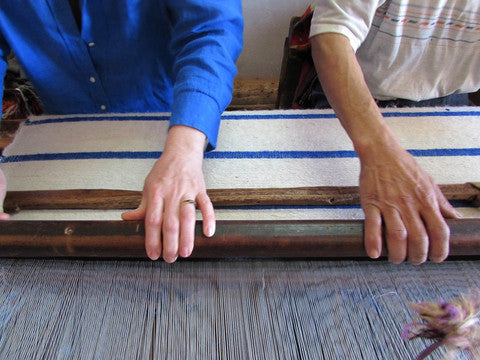 Bohemia
The Bohemia ethos is ethical, fair trade, hand made. Working in close partnership with artisans worldwide, Bohemia's collaborative process centers on uniting contemporary design with heritage craftsmanship. 
Bohemia was founded in 2006 by Jenny Lockton, an anthropologist and businesswoman with a lifelong fascination with arts, crafts and textiles. In partnership with artisan producers in Morocco, India, Turkey and Bali, Bohemia creates meaningful employment for artisans and works to ensure the survival of heritage craft traditions.