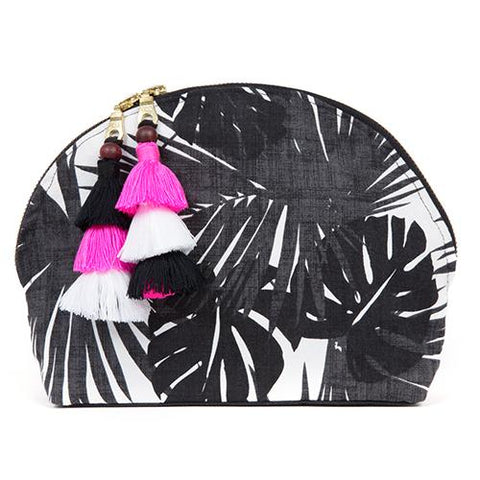 JADEtribe
Palm Print Clutch, fuchsia tassel
The Aloha JADEtribe clutch in a chic, black and white palm print finished with double tassel in neon pink, black and white. Handwoven cotton canvas with double zip closure and nylon interior. Spot clean. 10" x 7" x 3"
Inspired Design: JADEtribe provides fair trade wages and steady employment to artisan collectives in Southeast Asia. Fabric bags and pouches are modern interpretations of traditional textiles that are hand-loomed and colored with organic dyes. Handwoven hyacinth baskets are lined with both new and repurposed traditional textiles.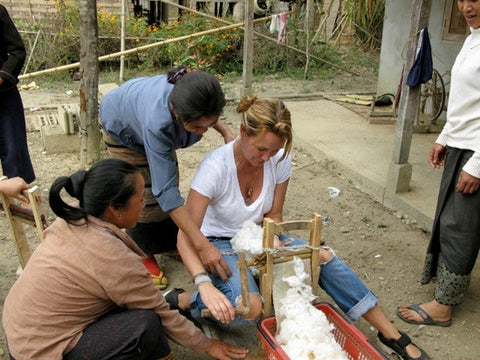 JADEtribe
JADEtribe was founded in 2008 after designer Kimberly Hartman made a trip to Southeast Asia and discovered a village of Laotian women weaving remarkable textiles. At fair trade wages and prices, she purchased the textiles from the craftswomen and hired other local artisans to sew the fabric into bags and JADEtribe was born.
Beachy and bohemian, JADEtribe is the true embodiment of fashion with a conscience. Whether it's a handbag repurposed from hand embroidered baby carrier cloths or organically dyed and hand loomed traditional textiles, each element of JADEtribe is ethically created honoring heritage craft traditions and fair trade practices.
JADEtribe continues to work with artisan collectives in Southeast Asia, providing fair wages and steady employment as these craftswomen create modern interpretations of traditional textiles, using hand looms and organic dyes. JADEtribe also uses repurposed hand embroidered textiles and jewelry to create unique pieces in their collection.