maeree x artisan revival
Sunset Beach Blanket
maeree x artisan revival Sunset Beach Blankets are hand loomed in a heavy cotton weave and trimmed with playful, handmade pom poms that are detachable for easy washing. Stripes of blanco, turquoisa, amarillo and azul cielo are adorned with coral pom poms. A bright addition to any day at the beach. Oversized dimensions and heavy weave make for a great picnic blanket. Wash in cold water, tumble low or line dry. Remove pom poms for washing. 84" x 60"  
Inspired Design: Handmade with love in Mexico by our partner Artisan Revival, the production of our kaftans, beach pouches and beach blankets provides women artisans with fair trade wages and training.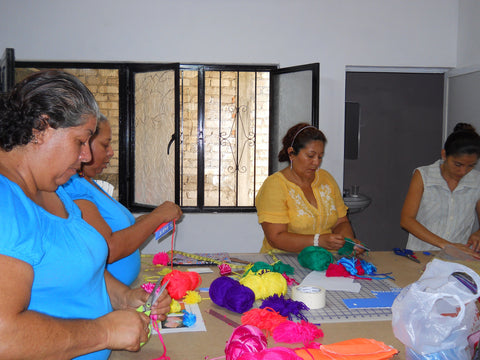 maeree x artisan revival
maeree x artisan revival textiles are handmade with love in Mexico by partner Artisan Revival. The line embraces the traditional weaving and embroidery techniques of the region and each embellishment is created by hand.
Produced in Higuera Blanca, Mexico at the Quality Skills Center, a training and manufacturing facility that provides fair wages and the opportunity for workers to learn skills that are directly transferable to employment. With its "earn while you learn" apprenticeship program, the QSC is a powerful tool leading to self-improvement and professional advancement.