Artesano
Tucan Wide Brimmed Straw Hat
The Tucan Classico panama hat by Artesano was inspired by the natural beauty and vibrant birdlife of the Amazon rainforest. Handmade in Ecuador, this striking classic panama hat with wide brim makes a statement at the beach, sightseeing or on the town. Handwoven of Toquilla straw with woven straw band in contrasting black and natural fringe. Store in a cool, dry place away from direct sunlight. Do not roll or crumple. Spot clean only with soap and damp cloth. Brim 4". Size is adjustable with inner band.
Inspired Design: Artesano hats represent a proud heritage of craftsmanship and design. The company believes in the power of community, working alongside authentic Ecuadorian artisans to create the finest quality handmade hats. Artesano only uses eco-friendly and sustainable materials and pays fair trade wages to all artisans.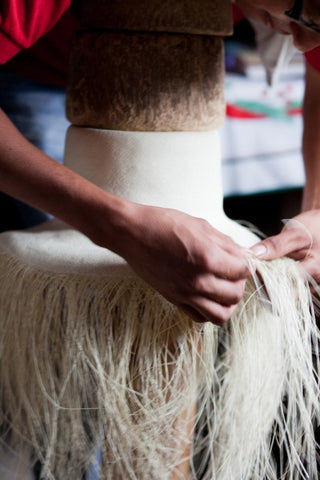 Artesano
Grounded in a strong belief in the power of community, Artesano works alongside Ecuadorian artisans to create fine quality, handmade hats and bags made of eco-friendly and sustainable materials. 
Representing a proud heritage of craftsmanship and design, each product is hand-woven with traditional Toquilla straw, made from the mature leaves of the Carludovica palmate.  The straw's time-honoured strength yet delicate feel ensures flexibility and comfort that lasts. Each hat can take up to 5 months to create and is crafted from eco-friendly and sustainable materials and practices.
Supporting local communities and protecting the environment is an integral component of Artesano's mission, ensuring an enduring livelihood for artisans and creating continued love and respect for their beautiful trade around the world. Artesano engages with local initiatives that empower communities with education and skills, helping local citizens and their families to overcome poverty and improve living conditions.