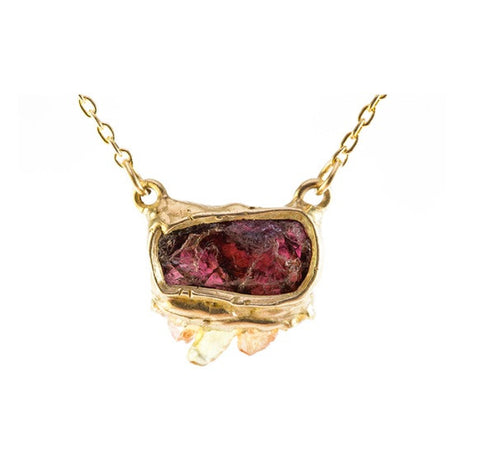 Emilie Shapiro
SunSight Pendant Necklace
Emily Shapiro's SunSight Pendant Necklace with rough cut garnets and yellow sapphires embedded in recycled brass. This organic setting cocoons a large garnet and is finished with five yellow sapphires. Beautifully complements Emilie's Seafaring Garnet Drop Earrings. 3/4" pendant is set on 18" recycled brass chain. Because each piece is handmade, the shape and size will vary slightly with the gemstones.
Inspired Design: Emilie Shapiro is inspired by nature and the beauty of its imperfections. She creates her contemporary yet primitive jewelry line by hand in New York City. She uses sustainable business practices, avoiding harsh chemicals in her studio, using recycled metals and packaging materials, and working with vendors who share the same ethos.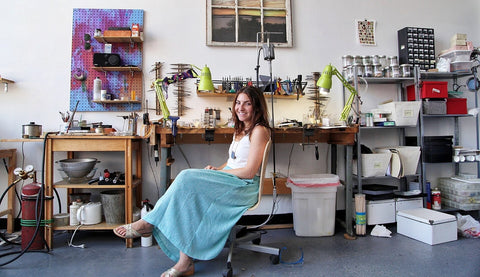 Emilie Shapiro
Emilie Shapiro's work is inspired by natural elements and experimentation. She incorporates natural, rough gemstones celebrating the beauty of imperfections. Emilie uses the ancient craft of lost wax casting, which dates back to Egyptian times, allowing her to carve sculptural pieces into hard wax and then cast them in metal. For a primitive yet modern feel, Emilie casts gemstones in place so that they are embedded in the metal, creating a marriage of materials in each piece.
Emilie uses recycled metals and natural gemstones and employs ethical metal-smithing practices in her studio. Emilie is committed to sustainable business practices, using recycled packaging materials and working with vendors who share this ethos. All jewelry is handmade in her New York City studio.