Loop de Loup
Tall Brass Candlestick
From Loop de Loup, this striking Tall Brass Candlestick is made of up-cycled brass component parts. The brass is left unpolished to show the beauty of patina as it ages. A modern, minimalist piece that works beautifully with our Conical Metal Vessel and Industrial Metal Candlestick. Secure candle by skewing into top spike. Measures roughly 16" high with 1 1/2" diameter. Actual measurements may vary slightly as each piece is unique. Handmade in Brooklyn.
Inspired Design: Loop de Loup is a design-driven accessories brand with a zero-waste policy and a mission to make up-cycling modern and beautiful. The brand was created by designer Sarah Phillips as a venue for re-imagining vintage, dead stock metal components into desirable accessories. Sarah is inspired by the longevity and beauty of patina, and tries to stay true to the nature of each material so that it can mature gracefully over time. Each piece is designed with timelessness and everyday use in mind.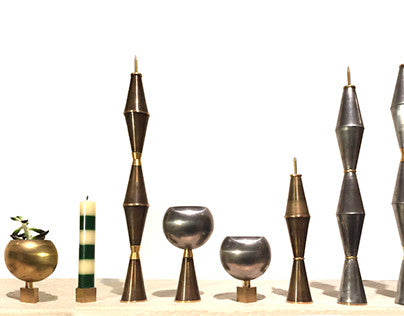 Loop de Loup
After more than a decade in the fashion industry, designer Sarah Phillips decided to pursue her dream of hand-crafting jewelry, home and lifestyle accessories and created Loop de Loup. Each piece in Sarah's collection of covetable, industrial glam home accessories is made of repurposed off-cuts and vintage, dead-stock industrial materials sourced from warehouses around the world. Minimalist, modern and rooted in industrial design, each piece in the Loop de Loup collection is made by hand in Brooklyn, New York.
Loop de Loup's mission is to design must-have modern accessories, handmade creatively from sourced off-cuts & never-used vintage components. Cognizant of the staggering amount of waste created by the fashion industry, Loop de Loup is committed to not adding to this waste, both in the minimalist design of each piece, and in the repurposing of existing materials.