Mala Collective
Rose Quartz Mala
"I Am Love" Rose Quartz Mala from Mala Collective, made of pale pink quartz and rudraksha beads with soft pink silk tassel. Rose quartz is considered the love stone and is believed to enhance creativity and soothe the spirit. Layers beautifully with the Blush Meditation Mala. Complete the look by stacking the Rose Quartz Mala and Blush Meditation bracelets. Made of 108 beads at 6 mm each. Hangs approximately 40 cm.
Inspired Design: Mala Collective creates handmade, fair trade mala beads in Bali, Indonesia. The crafting process of the mala beads - tying, carving and creating - is a proud tradition on the island of Bali. Artisans string the jewelry by hand, combining sustainably harvested rudraksha seeds with gemstones that carry strong intentions. Each piece is then handed out in the village to be knotted from home and blessed.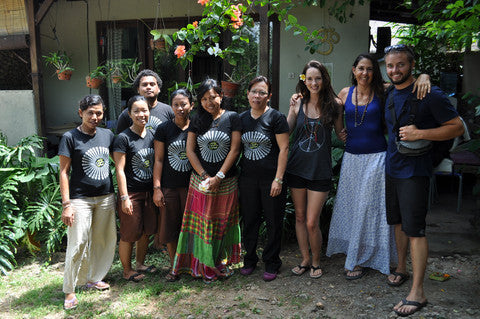 Mala Collective
Mala Collective, in partnership with Aum Rudraksha Designs, creates handmade mala beads in Bali, Indonesia. Made from gemstones and rudraksha seeds that are sustainably harvested, the beads are hand-strung by a collective of artisans who receive fair trade wages and benefit from profit sharing. Mala Collective provides local employment for artisans and farmers alike, from the planting of the rudraksha trees, to harvesting the seeds and then handcrafting the malas. 
Beyond providing fair trade wages and profit sharing to its artisan partners, Mala Collective gives to social causes. The organization is committed to Opportunity International, an enterprise that provides micro-loans to entrepreneurs in the developing world, and donates a share of profits to Bumi Sehat, a nonprofit birthing and wellness center in Bali.