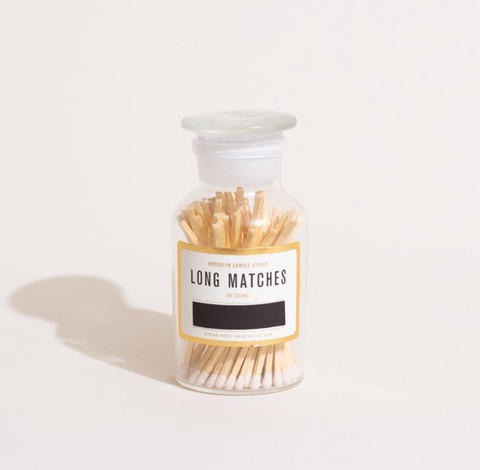 Brooklyn Candle Studio
Apothecary Match Bottle
Inspired by vintage apothecary bottles, Brooklyn Candle Studios designed these limited edition, statement-making match bottles to display easy-access matches in style. Light your candles in a pinch by striking the match on the bottle. Contains approximately 55 4-inch matches, 5 3/8" x 3".
Inspired Design: Handcrafted from Brooklyn Candle Studio products are a sophisticated blend of nature and luxury. All products are made in small batches in Brooklyn from vegan and cruelty-free ingredients and packaged in recyclable and reusable containers.
Brooklyn Candle Studio
Brooklyn Candle Studio is an independent candle design and manufacturing studio based in Brooklyn, New York. The small-batch candles are handcrafted with a blend of soy wax, essential oils and lead-free cotton core wicks. Wax is sourced from American-grown soy beans for an eco-friendly, clean burn. Simple and minimal, the candles are designed to complement every style of home from modern to bohemian.
Founded in 2013 by designer Tamara Mayne, Brooklyn Candle Studio products are preservative-free, petroleum-free, cruelty-free and 100% vegan. The eco-conscious company uses recyclable packaging and shipping materials and as little plastic as possible. Employees earn fair wages and benefits.