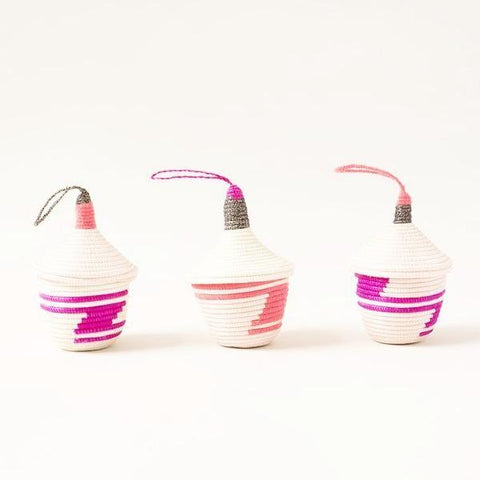 Indego Africa
Pink Miniature Peace Baskets
These adorable pink-and-white baskets, miniature versions of Indego Africa's one-of-a-kind Peace Baskets, have a poignant history and endure as a powerful symbol of peace. Following the Rwandan genocide, women who were left behind on both sides of the violence came together to rebuild their communities by forming artisan cooperatives to create traditional baskets for commerce. Weaving and working side by side they were able to foster peace, hope and reconciliation. Rwandan Peace Baskets continue to represent generosity, compassion and forgiveness. Handmade of sustainable, locally-grown sweet grass and sisal using traditional techniques. Spot clean. Colors may vary and will fade in direct sunlight. Set of 3 baskets, each measures 3 1/2" x 2" 
Inspired Design: Indego Africa creates unique, handcrafted products inspired by the vibrant colors and rich cultural traditions of Rwanda, while providing education and economic empowerment for its partner artisan cooperatives.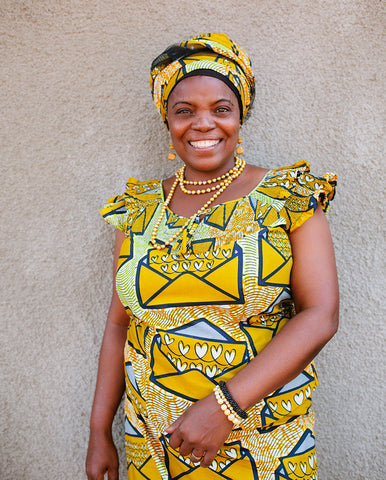 Indego Africa
Indego Africa is a nonprofit social enterprise and lifestyle brand that supports artisans in Rwanda through economic empowerment and education. Indego Africa works to break intergenerational cycles of poverty by providing predominantly female artisans with the tools and support to reclaim their own futures, flourish as independent businesspeople and drive development in their communities.
The company's Rwandan staff works on-site to provide practical, hands-on training in quality control, design, and product management to artisan cooperatives. 100% of profits fund job skills training programs in business management, technology, entrepreneurship and literacy. Through these education programs artisans develop the knowledge and skills to engage independently with global markets and grow their own businesses.